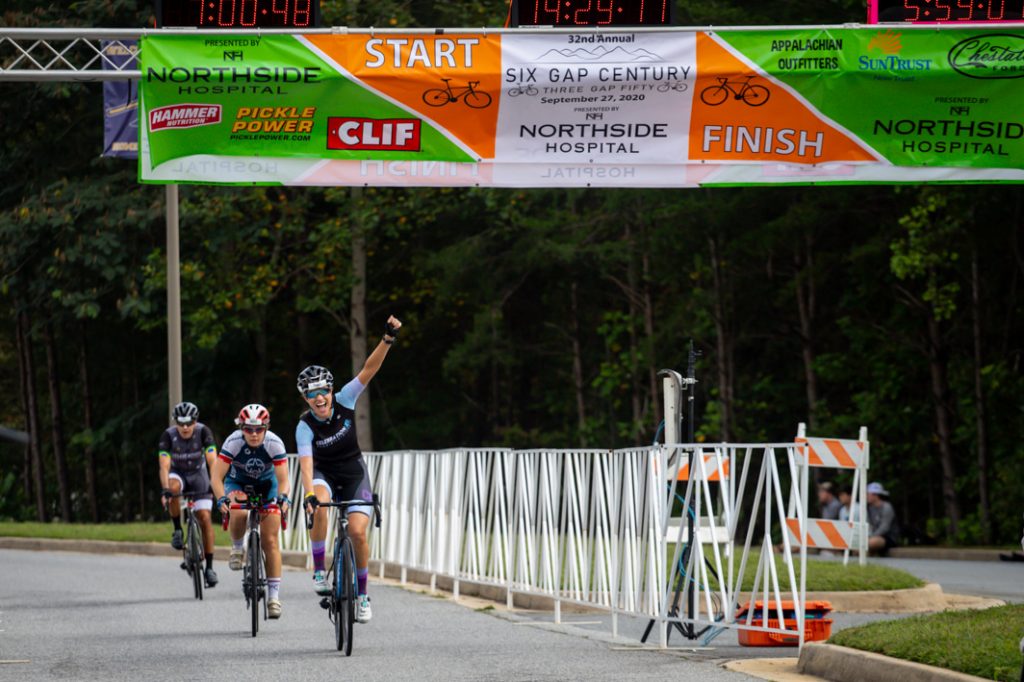 Six Gap Century
Think you have what it takes to finish the Six Gap Century?
---
The Six Gap Century boasts many of the same roads and mountain climbs as the historic Tour de Georgia. The ultra­-challenging route takes you up and down six of the steepest climbs in the North Georgia Mountains.
Elevations on the six gaps in this ride range from 1,400 feet to 3,460 feet. The toughest climb, Hogpen Gap, will challenge even the strongest rides, averaging a 7% grade for seven miles, with sections as steep as 15%.
The Six Gap Century includes full rest stops, all supplied with great food, drinks, and entertainment. Exhilarated Six Gappers will be greeted with a NEW taco bar (now with vegan options) after the ride.
Maps and Route Info
Use the RideWithGPS.com to view the course, download a cue sheet, and export GPS or TCX files for your devices.
Your safety is our biggest concern!
The ride is fully supported and assisted by local and state law enforcement and ambulance services. The Six Gap Century includes full rest stops, all supplied with a great selection of food and drink.
Blow a tire on course? Don't worry!
Tech support from a variety of local bike shops and sponsors is offered during the ride in many locations. Please be aware that there may be a fee for parts. We recommend bringing extra bike supplies as parts and supplies for your bike may not be readily available.
Hogpen Climb Flipped
We will keep the flipped Hogpen loop in 2022. We took in everyone's feedback and wanted to increase the Challenge of 6 Gap. So, we changed the Hogpen Climb to make it more "FUN". Because of this, we are eliminating the time Cut Off at Jacks Gap. We welcome everyone to finish the ride. Just remember that this will be a more challenging course as we are riding up the steep side of Hog Pen. Don't skip leg day!
Registration includes:
Food & Drink at Rest Stops
Custom Six Gap Century & Three Gap Fifty Bike Ride T-Shirt
NEW Post-ride Taco Bar with Vegan Options (11:00 am – 6:00 pm)
Timing chip
Law enforcement support
Medical Support
SAG, Tech Support, and On-Course Communication
Official Participant Numbers
Give-Aways from Sponsors
Hot Showers after the Ride
Discount on Official Six Gap Century & Three Gap Fifty Bike Ride merchandise (pre-ordered online sales only)
High-performance Technical Clothing